Browse Photo Gallery
Looking down to Stables
Looking down toward the stables.
The Stables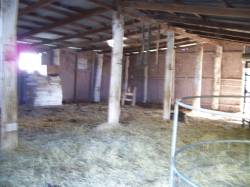 Originally built in the American style by Quarter Horse Breeder Pat Cullen.
Hay Shed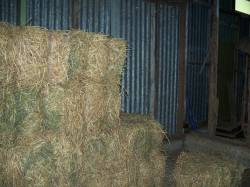 The old dairy is a very good hay storage shed.
The Dairy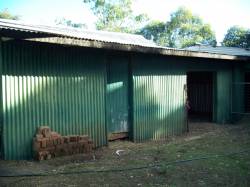 The old dairy has a concrete floor, one side built up and the other sloped for easy cleaning.
The Stables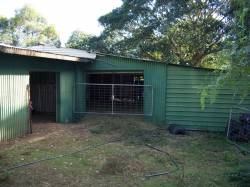 The stables would easily house six horses.
The Wood Shed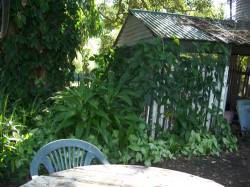 The wood shed is at the rear of the house for easy access during bad weather.
Large Shed
The large shed is 15'x 9' it has a concrete floor and some polystyrene insulation. Three roller doors plus access door.
The Farm Buildings
The Shed has a concrete floor gal three bay shed + plus person access door, it measures 15'x9' and could be used for many functions. Originally the shed was used to house tropical fish so has some polystyrene insulation on the ceiling and walls.
The Stables were built some years ago in the American style by Horse Breeder Pat Cullen, renowned for his quarter horses. Pat also named the property 'Seco'. The stables are quiet large and solid, it's currently used as housing for dexter cattle.
The dairy was built prior to 1960 and is consists of concrete floors and good solid construction externally. The dairy is used to house lucerne hay and is totally weather proof. It's currently used to house alpacas and lucerne.
A Wood Shed is located at the back of the house and within easy access to carry wood for winter fires.
© 2010 Vicki & Philip Stebbins